Profile: Shintaro Ishihara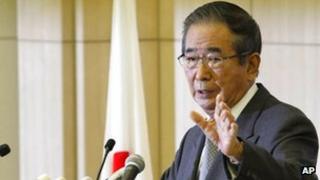 Japanese novelist-turned-politician Shintaro Ishihara has consistently made headlines as one of the country's most outspoken and confrontational officials.
The 80-year-old is stepping down as Tokyo governor to form a new national political party ahead of general elections due by the end of next year.
He has held the governor's office for four terms, starting in 1999.
The BBC's Charles Scanlon says Mr Ishihara has presented himself as a maverick prepared to combat vested interests and stimulate economic growth.
Now he plans on returning to national politics to join forces with other right-wingers to challenge Japan's two dominant political parties.
China friction
Mr Ishihara has consistently antagonised China and has made comments denying well-documented wartime atrocities by Japan.
His recent plan to buy islands the two countries dispute has provoked a crisis in relations. Mr Ishihara's move was seen as highly provocative and the Japanese government decided to purchase the islands instead.
"The situation could have been much worse, if the government didn't buy the islands," Japan's Foreign Minister, Koichiro Gemba, said in an interview on 19 October.
Mr Ishihara has also made controversial comments about the 2011 tsunami that hit Japan, calling it "divine punishment" for the country's materialism.
Aside from China, he has also made comments about North Korea, foreigners, the French language and Mickey Mouse for not having Japan's "unique sensibility".
Shintaro Ishihara was born on 30 September 1932, according to a profile on the Tokyo government's website. He graduated from Hitotsubashi University's law department.
He is married and has four sons.
He is also a best-selling author and screenwriter.
Among his works are The Japan That Can Say No book in 1989 and the script for the 2007 film I Go to Die For You, about kamikaze pilots.
He won one of Japan's prestigious literary prizes, the Akugatawa Prize, in 1956 for his novel, Season of the Sun. He also wrote the screenplay for the movie adaption of the novel.
He was first elected to Japan's upper house in 1968 and has served many terms in the lower house.