Where are the powerful Chinese women?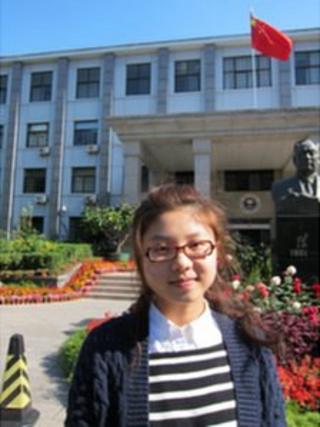 Wearing combat boots and with her hair pulled into a high ponytail, 22-year-old Lin Shuang doesn't look like the straight-laced men who sit at the helm of China's Communist Party.
But that hasn't stopped her from spending four years attempting to become a party member in hope of boosting her career prospects.
Fluent in English, Ms Lin is a top student at Beijing's elite Foreign Affairs University and an active member of the Communist Youth League. She is also passionate about politics.
When studying in New York City for a semester this year, she was on campus the day President Barack Obama visited Columbia University. "It was so exciting to be that close to the president," she smiles.
In many other countries, this accomplished young woman might be a prime candidate to work in government and, eventually, to help run her country. But Ms Lin will not even consider that option.
"I don't know much about the culture in Chinese politics, but I think it's pretty masculine," she explains. Instead, she wants to work with a non-profit organisation, perhaps one that battles domestic violence.
It is not hard to see why Ms Lin and others like her might shy away from China's political system.
Female leaders are a rare breed in China's traditionally male-dominated society. The most famous women in Chinese history - the Empress Dowager Cixi and Jiang Qing, wife of Mao Zedong - were the partners of powerful men.
That trend is unlikely to change soon. Rumours swirling around Beijing indicate the new Politburo Standing Committee, the powerful group that runs China, will be staffed entirely by men when it is unveiled next month.
One woman, Liu Yandong, is rumoured to be in the running for a seat. However, most agree it is unlikely she will make the cut to become the first female to ever serve on the Standing Committee.
Even if Liu breaks through the glass ceiling, it will not impress young Lin Shuang. "I looked up [Liu's] resume and her father was one of the cadres of the party," she says.
She is disappointed that, once again, one of China's most powerful women seems to have achieved her success through family connections - Liu Yandong's father, Liu Ruilong, was a high-ranking agricultural official during China's Cultural Revolution.
It would have been more inspiring if Liu Yandong was just an average citizen, Ms Lin believes.
"That would make me feel like I had a chance and it's possible for ordinary girls to have this kind of dream, that the door is open to us even if we don't have a high-level father."
'Baijiu' culture
In a country where many women are grabbing the reins in business and academia, few women have achieved success in government.
In 1975, China ranked 12th in global rankings measuring female political participation, according to Guo Xiajuan, professor of politics and public administration at Zhejiang University.
Today, the country has slipped to number 64 on the list.
Despite guidelines stating that at least 22% of seats in the Chinese parliament should be allocated to women, only 21.3% of those spots were held by females at this year's parliamentary session. Prof Guo blames the dip in female representation on the fact this quota for women is not compulsory.
Also, Prof Guo explains, cadres move up the government ranks on the recommendations of their superiors.
Leta Hong Fincher, a frequent commentator on women's issues in China, notes that "in order to become a powerful official in China, you need to do a lot of banqueting and networking and heavy drinking of baijiu (Chinese rice liquor).
"In contrast, most women are expected to be at home, tending to their families outside of the office."
It would be difficult for a woman to fit into the same pattern of drinking and carousing alongside her male colleagues without being unfairly judged, Ms Hong Fincher argues. Traditionally, many women are expecting to maintain a modest lifestyle, caring for their families when the work day is over.
Besides, after-hours socialising to impress one's boss does not stop with an empty bottle of baijiu. It is an open secret that many Chinese officials maintain a roster of mistresses as a sign of their prowess.
The former minister of railways, Liu Shijun, kept 18 "ernai" - "second wives" - before he was fired for corruption.
This month, disgraced politician Bo Xilai was expelled from the Communist Party partly for maintaining "improper sexual relations with multiple women", according to the official government explanation detailing his demise.
The promotion of Liu Yandong to the highest echelon of the Chinese government would be a symbolic step indicating the party's willingness to advance the status of women, explains Prof Guo.
But Shuang Lin, the young student, is looking for real change. "If the party raised the quota for females or they increased the promotion of women's rights, that would make me like the Communist Party even more," she declares.
Perhaps then, this young woman and others like her would have the enthusiasm needed to push their way into China's Communist Party old boy's club.