Pakistan to buy bulletproof buses to woo cricket tourists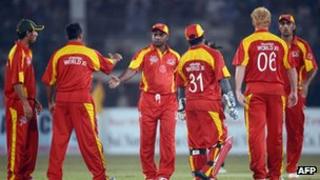 Cricket authorities in Pakistan are to buy bulletproof buses for foreign teams to try to persuade them to end a boycott prompted by militant attacks.
Officials also say plans to build a new high-security stadium in Islamabad - with accommodation facilities for visiting teams - are well under way.
No international team has played in Pakistan since gunmen attacked the Sri Lankan team bus in Lahore in 2009.
Six policemen and a driver were killed. Several players were hurt.
Since then Pakistan has played all official home events at neutral venues, mostly staged in Dubai or Abu Dubai. A proposed visit by Bangladesh was to have gone ahead in April this year but was called off for security reasons.
However, at the weekend Pakistan's highest profile unofficial international cricket match since the March 2009 attack passed off without incident in Karachi.
Now officials hope to build on the success of the tournament involving an unofficial all-star side - including players from South Africa and Sri Lanka - against an unofficial Pakistan all-star side in two Twenty20 matches.
The Pakistan Cricket Board (PCB) hopes to stage full internationals as early as next year.
"To ensure best security protocols for the international teams, the board unanimously approved the purchase of bulletproof buses to enable the PCB to achieve higher security measures for the visiting teams," the PCB said in a statement.
"This stadium, when complete, with a capacity of 50,000, will be the biggest cricket stadium in Pakistan. For this purpose the PCB has already taken over a piece of land measuring 35 acres (14 hectares) in Islamabad," it said.
The PCB governing board said it hoped the new ground and hotel complex would be ready for use next year.