Makoto Taki named as Japan's new justice minister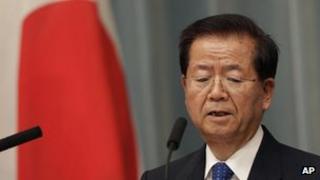 Japan has named a new justice minister after the previous minister resigned amid scandal over his alleged ties to an organised crime group.
PM Yoshihiko Noda reinstated Makoto Taki, who was justice minister before Keishu Tanaka assumed the post on 1 October after a cabinet reshuffle.
Mr Tanaka, 74, resigned on Tuesday citing health reasons.
There were calls for him to step down amid questions over political funding and his role in a gangster wedding.
"Former Justice Minister Taki has a thorough understanding of the workings of justice administration," said Japan's top government spokesman, Osamu Fujimura.
Mr Tanaka, who had been justice minister for just over three weeks, was in hospital for chest pains.
He has admitted acting as a matchmaker - a ceremonial role - at a gangster's wedding and attended a party thrown by a "yakuza" crime group boss.
But he said he was not aware of either individual's yakuza links at the time of the event, which took place 30 years ago.
He also admitted his office had accepted donations from a foreign-run company between 2006-2009 - banned under political funding law. His office says it has returned the money.
Correspondents ay that Mr Taki, 74, had a low profile while previously in office, but won plaudits for beefing up Japan's laws on reckless driving.