Pakistan bus passengers are abducted by unknown gunmen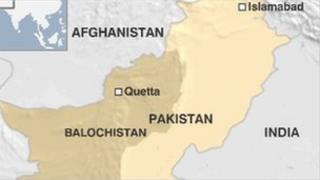 Unidentified gunmen have abducted five passengers and the driver and his assistant from a bus in the Pakistani province of Balochistan, police say.
The abductions appear to have been carried out by local gangs wanting to earn some "easy money" before the Muslim Eid ceremony, local police said.
They say there is no evidence of a sectarian dimension to the crime.
Sectarian violence between extremist Sunnis and Shias has killed thousands in Pakistan over the last 20 years.
Most of the attacks have been in Balochistan or the north of Pakistan.
Police say that the abductions took place when a van carrying the passengers - travelling on the main road from the provincial capital Quetta to the nearby town of Sibi - was "ambushed" by militants.
The unknown gunmen took those they had abducted into the mountains, police say, and no-one has so far claimed responsibility for the abduction.