Australia opposition leader Tony Abbott in Gillard row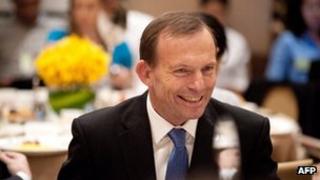 Australian opposition leader Tony Abbott is embroiled in a fresh row, days after being accused of sexism by Prime Minister Julia Gillard.
Mr Abbott said the government's decision to cut "baby bonus" payments to parents reflected a lack of experience "in this area".
The remark was seen by some as a dig at Ms Gillard, who does not have children.
He denied that interpretation and said his comments were "as innocent as can be", but he offered an apology.
"If [the Prime Minister] wants to take offence, of course I'm sorry about that. And if she would like me to say sorry, I'm sorry," he later told Australian media.
Mr Abbott's comments came as he criticised the government's plan to scale back a scheme that provides cash payments for the birth of each child during a mid-year budget review.
From mid-2013, the baby bonus for each baby after the first child will be reduced from 5,000 Australian dollars (£3,220; $5,140) to A$3,000.
The opposition Liberal party leader argued that the move did not take into account the real cost of having more than one child.
"I think if the government was a bit more experienced in this area, they wouldn't come out with glib lines like that," he said.
'Entirely innocent'
Ms Gillard, when asked about his comment, said: ''Well, I think Mr Abbott can explain what he meant by that line."
But members of the governing Labor Party criticised Mr Abbott. Trade Minister Craig Emerson called his comment "curious" and accused him of "making inferences".
Defence Minister Stephen Smith also suggested it was clear "the way in which that comment would have been interpreted".
Mr Abbott, however, maintained that critics had opted to "read far too much into entirely innocent comments".
Five years ago a senator from Mr Abbott's party said that Ms Gillard was not suitable for the top job because she was "deliberately barren". He later apologised for the comments.
Mr Abbott's comments come with the issue of sexism in the Australian political arena in the spotlight.
Two weeks ago Ms Gillard berated Mr Abbott in parliament, calling him a misogynist. Footage of her speech drew global attention - more than two million people have watched it on YouTube.
It also prompted the leading Australian English dictionary to update and broaden out its definition of the word "misogyny", and gave Ms Gillard a boost in the polls.
At the time, Mr Abbott said the Labor party was "hyperventilating", an accusation he repeated in response to the latest row.
Earlier this month Mr Abbott's wife spoke out to defend her husband against sexism claims, saying he was surrounded by "strong capable women".
He, for his part, has accused the Labor Party of "nasty personal politics".