Okinawa assembly passes protest resolution over rape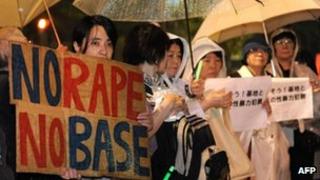 Okinawa has passed a protest resolution after the arrest of two US troops over the alleged rape of a Japanese woman.
Its legislature called for proper punishment, compensation for the victim and for the US to prevent crimes against island residents.
The US bases some 26,000 troops on Okinawa, where there is opposition to the ongoing military presence.
On Friday the US military imposed a night-time curfew on all its personnel in Japan in response to the incident.
The Okinawa legislative assembly unanimously passed the resolution against the US and Japanese governments to express ''burning resentment'' over the case, a Kyodo news agency report said.
''Preventive measures and instructions to servicemen have become dysfunctional," the legislative assembly said in the resolution, calling for the US to better educate its military personnel.
The assembly also noted that more than 5,700 crimes had been committed by US military personnel since 1972, when Okinawa returned to Japanese control.
The two men, identified as 23-year-old sailors, were detained by police after the alleged rape on 16 October.
The arrests have exacerbated resentment over the US military presence on the southern island.
The gang-rape in 1995 of a 12-year-old girl by three US service personnel sparked outrage in Okinawa and led to moves to reduce the US military footprint there.
The US says it is planning to relocate several thousand marines off Okinawa, but has linked their departure to progress on a new base in the north of the island - which many residents oppose.
There had also been strong opposition to the deployment of Osprey aircraft to Okinawa earlier this month, with resident citing safety concerns.
On Sunday, Okinawa Governor Hirokazu Nakaima left for Washington DC to lodge a protest with US officials there.
"I will talk about the Osprey transport aircraft and the latest case," he told reporters at the airport.