Burma's Thein Sein holds first local news conference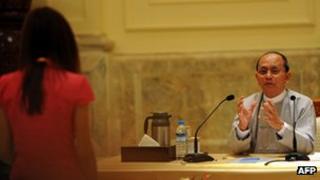 Burma's President Thein Sein has held his first local news conference, in what is seen as another sign of attempts to reform the country.
Thein Sein, who took power last year, spoke on issues ranging from the co-operation with the Aung San Suu Kyi-led opposition to the unrest in the north.
He also admitted that he had struggled to overcome his fear of the media.
Burma's 2015 polls are seen as a major test for the military-led government that is overseeing political reforms.
'HardTalk grilling'
Sunday's news conference in the capital Nay Pyi Taw lasted 20 minutes longer that the two-hour event originally planned.
Taking some 30 questions form the local media and foreign reporters, the 67-year-old former general was careful not to reveal too much on controversial issues.
Asked if he would give opposition leader Aung San Suu Kyi a role in the government, he answered that that would depend on her.
He also expressed hopes that his government would be able to negotiate a ceasefire with the rebels in Kachin state.
But he again did not provide any details how this would be achieved.
Thein Sein said he felt he should hold a news conference in Burma after giving so many interviews overseas.
And he admitted that he had the hardest time during a grilling on the BBC's HardTalk programme earlier this month.
"As I've even been on HardTalk, I'm not afraid of the others," he said, urging other government officials to co-operate with the media.