Hong Kong makes largest ivory seizure worth $3.4m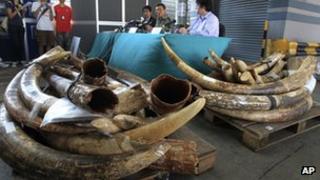 Hong Kong customs officials say they have confiscated nearly four tonnes of smuggled ivory - their largest seizure of products from endangered species.
The haul - worth about $3.4m (£2.1m) - was hidden in two separate containers from Kenya and Tanzania.
The seizure followed a tip-off from mainland Chinese police, who have since arrested seven people.
A recent rise in the illegal trade in ivory has been fuelled by demand in Asia and the Middle East.
Ivory tusks are used in traditional medicine there and to make ornaments.
'Plastic scrap'
"This is the biggest haul of ivory tusk in Hong Kong customs enforcement history in a single operation," Lam Tak-fai, head of Hong Kong's Ports and Maritime Command, announced on Saturday.
The customs officials said that the ivory tusks - as well as ivory ornaments - had been discovered on Tuesday and Wednesday.
They said that the containers from Kenya and Tanzania had been marked "plastic scrap".
The latest seizure tops the one in 2011 worth $2m.
Under Hong Kong's law, those guilty of trading in endangered species products face up to two years in jail and a huge fine.
The international trade in ivory has been banned since 1989, to protect Africa's dwindling elephant population.
Conservationist have linked China's growing involvement in Africa with a rise in poaching elephant tusks.