US invites Burma to military drills with Thailand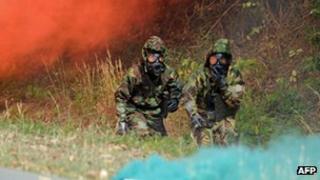 The US has invited Burma to observe a major military exercise in Thailand, officials say, in what is seen as a sign of improving relations.
Burma has yet to respond to the offer to attend the Cobra Gold exercise next year, which brings together US and Thai troops and observers from across Asia.
The US had stopped all co-operation with the Burmese military in the 1990s over its human rights record.
But it has begun lifting sanctions in response to Burma's series of reforms.
Thai and Burmese officials confirmed the invitation to the annual Cobra Gold exercise with BBC Burmese.
Thai Defence Ministry spokesman, Col Thanathip Sawangsang, said that Burma "is on the list of observers but it's not finalised yet".
A spokesman from the office of the Burmese president also confirmed the invitation, but said that they have yet to send an official response.
After decades of military rule, Burma has witnessed a series of political and social reforms since the military-backed civilian government came to power two years ago.
These include freeing hundreds of prisoners - political detainees among them - and introducing more press freedom.
Washington has been easing sanctions against Burma, including a recent decision to end economic sanctions.
But renewing ties with the Burmese armed forces is a far more delicate issue for the US, analysts say.
US officials are now openly talking of re-establishing co-operation with the Burmese military, says the BBC's South East Asia correspondent Jonathan Head.
This would challenge the predominant influence China has enjoyed for the past two decades in Burma, which has given its armed forces access to ports and monitoring posts on the Indian Ocean, our correspondent adds.
Cobra Gold, which began in 1980, is conducted in Chon Buri province, east of Thailand's capital, Bangkok.