Gunmen attack Kashmir hotel 'killing one'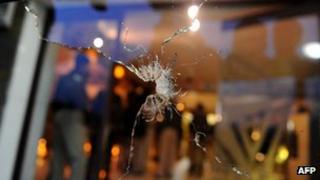 At least one person has been killed by gunmen who opened fire in a hotel on the outskirts of Srinagar in Indian-administered Kashmir, reports say.
Shooting began outside the Silver Star hotel but gunmen then went inside, a security official told AFP news agency.
A hotel employee was killed and reports say several others were injured. It is unclear if the hotel was the target
Since 1989, the region has seen an insurgency against Indian rule, but violence has declined recently.
No group has said it carried out this attack.
Security forces cordoned off the area and media reports say they are searching for the attackers.
Analysts say militant attacks on the tourist industry are rare and insurgents normally target the security forces. The hotel is close to an Indian camp.
In May at least one person was killed and many others injured in a blast in the town of Bijbehara south of Srinagar.