Malala Yousafzai: Pakistan girl 'standing with help'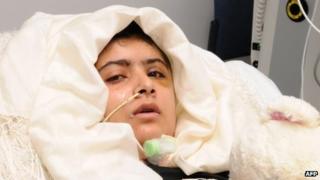 The Pakistani girl shot by the Taliban has managed to stand for the first time since the shooting, say UK doctors who are treating her.
Dr David Rosser said she was also able to communicate by writing notes, but added that there were still some concerns about her smooth recovery.
Malala Yousafzai was shot in the head by a Taliban gunman because she campaigned for girls' education.
She was flown to the Queen Elizabeth Hospital in Birmingham on Monday night.
Dr Rosser said that she was "doing very well" and reported that she was eager for details about her condition to be shared more widely.
"Malala is now well enough... she is happy, in fact, keen for us to share quite a lot of clinical detail with you," he said.
"She's communicating very freely, she's writing."
Skull reconstruction
But he reiterated an earlier warning that she was "not out of the woods" yet.
"She is still showing some signs of infection, which is probably related to the bullet track. [There is] some infection in the bullet track, which is our key source of concern," he told reporters.
In terms of her future care, the specialist teams looking after her estimate she will need a few weeks to rehabilitate and ensure the infection clears up.
Part of her skull will then need to be reconstructed either by reinserting the bone that was removed or with a titanium plate.
The Taliban have threatened to target Malala again and she was given tight security for her journey to the UK on Monday.
She and two other schoolgirls were attacked as they returned home from school in Mingora in the Swat Valley almost a week earlier.
The gunman who boarded the van in which she was travelling asked for her by name before firing three shots at her.
Malala is widely known as a campaigner for girls' education in Pakistan. In early 2009 she wrote an anonymous diary for BBC Urdu about life under the Taliban, who had banned all girls in her area from attending school.