North Korea warns of 'strike' over South propaganda leaflets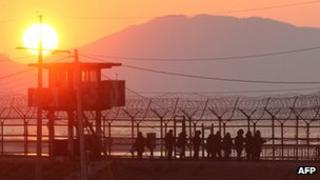 North Korea has threatened to open fire on South Korean territory if activists send propaganda leaflets across the border next week.
The military said it would respond with a "merciless military strike" if the leaflets were dropped on Monday.
It warned residents in the area where activists will launch the balloons carrying the leaflets to evacuate.
Activists have sent leaflets on many past occasions. North Korea condemns the move but specific threats are rare.
South Korea has vowed to retaliate if the North should act.
''If that were to happen, there will be a perfect response against the source of the attack," Defence Minister Kim Kwang-jin was quoted as saying by Yonhap news agency.
Pyongyang's warning comes a day after South Korean President Lee Myung-bak visited a border island shelled by North Korea two years ago.
'Direct firing'
A group of North Korean defectors now living in the South plan to scatter the leaflets on Monday morning from a site close to the border town of Paju.
"The moment a minor movement for the scattering is captured... a merciless military strike by the Western Front will be put into practice without warning," the North Korean military said in a statement carried by KCNA news agency.
"The surrounding area will become targets of direct firing of the KPA [Korean People's Army]," the statement said. "The KPA never makes empty talk."
The group said they intended to go ahead with their plans.
"We had similar threats last year and they did not stop us before and this is not going to stop us this time," Pak Sang-hak, a North Korean exile who defected to the South 12 years ago, was quoted as saying by Reuters news agency.
North and South Korea remain technically at war following the 1950-53 Korean War, which ended in an armistice.
Tensions have remained high since the sinking of a South Korean navy ship in March 2010 which Seoul blamed on Pyongyang, and the shelling of Yeonpyeong Island eight months later.
On Thursday in his first visit to Yeonpyeong since the shelling, Mr Lee said South Korea "must prevent the North's provocation''.
Yeonpyeong lies 3km (2 miles) from the disputed maritime border in the Yellow Sea and 12km from the North Korean coast. It has been the scene of inter-Korean naval clashes over the years.