Pakistan Chief Minister Shahbaz Sharif's son-in-law accused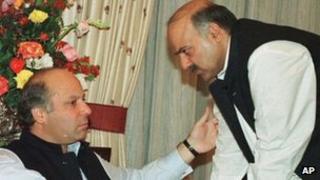 The son-in-law of one of Pakistan's most influential politicians has been remanded in custody for 14 days for his alleged role in an assault of a security guard at a top Lahore bakery.
The lawyer representing Imran Yousaf, the son-in-law of Punjab Chief Minister Shahbaz Sharif, told the BBC that his client strongly denied the allegation.
Mr Yousaf allegedly authorised the guard's assault by at least eight men.
It allegedly took place after his wife was refused service at the bakery.
Prosecutors say that the guard was attacked by members of Pakistan's elite police force commandos - and Mr Yousaf's bodyguard - when he refused to allow Mr Yousaf's wife into the bakery to buy a cake because it had just closed.
The bakery is well-known and located in Lahore's upmarket defence colony. The guard was slapped about the head by his assailants but did not sustain any serious injuries.
Critics say that the alleged incident typifies the "VIP culture" of many Pakistan politicians and their relatives, who expect people they see as subservient to them always to be at their beck and call.
The woman refused service is the daughter of Punjab Chief Minister Shahbaz Sharif and the niece of Pakistani opposition leader Nawaz Sharif.
Correspondents say it is not clear how CCTV images of the alleged assault last week were obtained by the Pakistani media whose widespread coverage of what has been called "the bakery torture case" created a public outcry.
The alleged perpetrators including Mr Yousaf were arrested soon afterwards. On Wednesday a magistrate in Lahore granted bail to the seven policemen and a man said to be Mr Yousaf's private bodyguard.
Mr Yousaf's lawyer, Rana Asadullah Khan, told the BBC that his client would be filing an urgent application for bail on Friday.