South Korean President Lee visits Yeonpyeong Island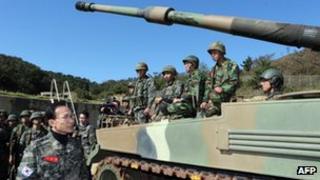 South Korean President Lee Myung-bak has made an unexpected visit to an island shelled by North Korea in 2010.
Mr Lee, who inspected military equipment on Yeonpyeong Island, said South Korea "must prevent the North's provocation", Yonhap news agency says.
The North shelled the island in November 2010, killing four people including two civilians.
The island houses South Korea's military installations and a small civilian population.
Yeonpyeong lies 3km (2 miles) from the disputed maritime border in the Yellow Sea and 12km from the North Korean coast. It has been the scene of inter-Korean naval clashes over the years.
This is Mr Lee's first visit to the island, reports say.
"The reason that we build up [the military] is not only to bolster our means to retaliate but to prevent the North's provocation," Yonhap news agency quoted Mr Lee as saying during his visit.
Correspondents say the president is widely seen as a hawk in relation to defence issues.
"If North Korea provokes us, we have to retaliate strongly. We always have to remain vigilant," Mr Lee added.
"If the North makes any [conciliatory] gesture, it is just a ruse and at such times we have to keep up our guard all the more."
The two Koreas remain technically at war following the 1950-53 Korean War, which ended in an armistice.