Japanese ministers visit Yasukuni Shrine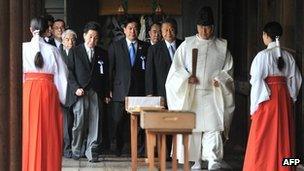 Two Japanese ministers have visited Tokyo's Yasukuni Shrine, in a move likely to further sour relations with regional neighbours.
The move by the transport and postal reform ministers followed opposition leader Shinzo Abe's visit on Wednesday.
China and South Korea's foreign ministries have condemned the visit, even as Japan has downplayed it.
The shrine commemorates Japan's war dead - including convicted war criminals from World War II.
It is viewed by many of the country's neighbours as a reminder of Japan's military past.
Hong Lei, China's foreign ministry spokesman, said: "China's position on this issue has been clear-cut and consistent: we urge the Japanese side to face squarely and reflect upon history and strictly abide by its solemn statements and pledges regarding historical issues, and face the international community in a responsible manner."
"It is really regrettable to hear about the irresponsible behaviour that ignores the feelings of the people in neighbouring countries, who have been victimised by Japanese imperialism in the past," said Cho Tai-young, a spokesman for South Korea's foreign ministry.
Transport Minister Yuichiro Hata and Postal Reform Minister Mikio Shimoji - both members of the cabinet - were among a group of lawmakers who went to the shrine on Thursday morning to mark its autumn festival.
Mr Hata is from the ruling Democratic Party (DPJ) and Mr Shimoji from a junior coalition partner. Mr Hata had also visited the shrine in August, on what he said was a private visit to mark the end of WWII.
Prime Minister Yoshihiko Noda has previously urged members of his cabinet not to visit the shrine.
When asked, Japanese Chief Cabinet Secretary Osamu Fujimura downplayed the visit as ''one by private individuals''.
''As these are personal actions by cabinet members, the government cannot comment further on the matter," he told reporters.
Mr Abe was prime minister in 2006 - the youngest elected since World War II - but he stepped down a year later, citing ill-health, as support for his administration plummeted. He did not visit the shrine while he was prime minister.
Elections are expected in Japan in coming months - potentially positioning Mr Abe for a second spell as prime minister.
Ties between Tokyo and Beijing remain severely strained by a row over a group of East China Sea islands that both claim.
The territorial row - over islands known as Senkaku in Japan and Diaoyu in China - has led to anti-Japanese protests in some Chinese cities and affected a number of Japanese companies operating in China.
The dispute between Tokyo and Seoul is over another group of islands, known as Dokdo in South Korea and Takeshima in Japan.