Taliban threat worries Pakistan media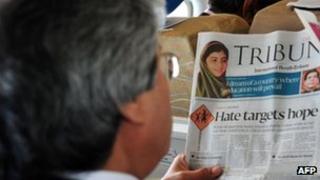 Pakistan's media have expressed alarm at Taliban threats to target journalists after critical coverage of the shooting of Malala Yousufzai.
The 14-year-old education campaigner was seriously wounded as she returned home from school in the Swat valley.
The Pakistani Taliban said it had shot her for "promoting secularism".
The All Pakistan Newspapers Society (APNS) said Taliban threats directed at the media were aimed at curbing the freedom of the press.
Officials say the threats were uncovered in an intercepted phone call from a Pakistani Taliban leader.
In the call, intercepted by Pakistan's intelligence agencies, Hakeemullah Mehsud, chief of Tehreek-e-Taliban Pakistan (TTP), reportedly gave his subordinate "special directions" to attack the media in cities including Lahore, Karachi, Rawalpindi and the capital Islamabad.
The APNS said the Taliban was trying to "browbeat the voice of the people".
The Pakistan Press Foundation said religious scholars who publicly denounced the shooting had also been alerted by the government.
It said the government was taking the TPP threat seriously.
The BBC says it has "taken appropriate steps to protect its staff and operations in Pakistan" following the threats to media organisations.
"We are monitoring the situation and will take any necessary action to protect our staff. We continue to broadcast to Pakistan," a BBC statement said.
Deadliest country
The attack on Malala, in which two other schoolgirls were wounded, was overwhelmingly condemned in Pakistan. Groups that have previously expressed some sympathy for the Taliban's cause largely denounced the targeting of children.
The strength of reaction has put pressure on the government to take more action to tackle the insurgency.
Pakistani media quoted Taliban sources as saying they were angered by the level of attention that the attempted murder had received and felt the coverage was biased.
Malala was flown to the UK on Monday for specialist treatment at Queen Elizabeth Hospital in Birmingham.
A spokesman described her condition as stable and said she was responding well to treatment.
He added that reports about Malala's family visiting her in hospital were wrong.
"We can clarify that currently the family are still in Pakistan," the spokesman said.
The teenager is widely known as a campaigner for girls' education in Pakistan. In early 2009 she wrote an anonymous diary for BBC Urdu about life under the Taliban, who, after taking over the Swat valley in 2007, banned all girls from attending school.
Officials in her province have issued a 10m rupee ($105,000; £66,000) reward for information leading to the arrest of the gunmen, while Interior Minister Rehman Malik has offered a $1m reward for the capture of Taliban spokesman Ehsanullah Eshan.
Pakistan was named as the deadliest country for journalists in 2011 for a second year running, by campaign group Reporters Without Borders, which said that 10 journalists had been killed.