Pakistan polio worker shot dead in Quetta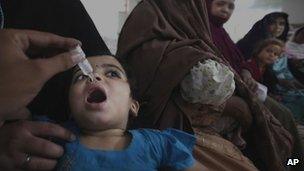 Gunmen have killed a member of a polio vaccination team in the western Pakistani city of Quetta.
The team were administering polio drops to under-fives on the city outskirts when attackers on a motorcycle opened fire.
One worker was fatally injured and died on the way to hospital. It is not clear who the gunmen were.
The Taliban have issued threats against the polio drive in Pakistan, where polio is still endemic.
In July a doctor who was administering polio vaccines was shot dead in the southern city of Karachi.
Officials say the vaccination programme has been suspended in several areas of Quetta following Tuesday's shooting.
"We are investigating if the dead man had any dispute with the attackers or the shooting was carried out by opponents of the campaign," a senior local official, Tariq Mengal, told AFP news agency.
There has been opposition to such immunisation drives in parts of Pakistan, particularly after a fake CIA vaccination campaign helped to locate Osama Bin Laden in 2011.
Militants have kidnapped and killed foreign NGO workers in the past in an attempt to halt the immunisation drives which they say are part of efforts to spy on them.
Pakistan is one of only three remaining countries where polio is still endemic. The others are Afghanistan and Nigeria.