Nato in Afghanistan expresses regret over civilian deaths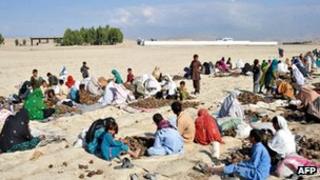 Nato forces in Afghanistan have expressed regret over the deaths of "three innocent Afghan civilians" during an operation against insurgents in the south of the country on Sunday.
Nato says the three died during an operation in Helmand province against suspected insurgents laying improvised explosive devices (IEDs).
The statement said that Nato troops may have "accidentally killed" them.
There has been no response to the statement from the Afghan government.
But it and President Hamid Karzai have in recent years been strongly critical of civilian casualties caused by Nato.
The president has argued that such incidents undermine his administration and only serve to boost support for the Taliban.
While there are no exact figures for the number of civilians killed since the war in Afghanistan began in 2001, most estimates calculate a minimum of 20,000 civilian deaths.
The United Nations has said that the vast majority of those are caused by insurgents.
Afghan officials said that two boys and a girl died in the most recent incident, which they say was caused by a Nato airstrike targeting Taliban insurgents planting mines on a road.
The statement by Nato's International Security Assistance Force (Isaf) did not explain how the civilian deaths occurred, but it did make clear that they were not killed by an airstrike.
"During an operation in Helmand Province Sunday against suspected insurgents laying IEDs, Isaf forces may have accidentally killed three innocent Afghan civilians," the statement said.
"The coalition extends its deep regret for this tragic incident. We also extend our sympathies to the families and loved ones of those who died, and we take full responsibility for what occurred."
The statement said that Isaf would work closely with Afghan officials "to determine what happened and why" and that its representatives would meet family members of those who died, personally to express condolences.