Burma's Thein Sein re-appointed party chief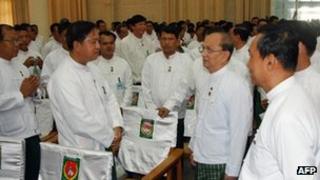 Burma's President Thein Sein has been re-appointed head of the governing party at a meeting aimed at reviving its political fortunes against the Aung San Suu Kyi-led opposition.
Thein Sein has played no active role in the Union Solidarity and Development Party (USDP) since he became president.
Many expected his main rival within the party, Shwe Mann, to get the job.
Burma's 2015 polls are seen as a major test for a military-backed government that has overseen political reforms.
A member of the party's executive committee told BBC Burmese that Thein Sein was re-elected on Tuesday because that was what party members wanted.
The USDP had not had a permanent leader since Thein Sein became president last year. It won general elections two years ago that critics say were a sham, but subsequently embarked on a series of reforms.
However the Aung San Suu Kyi-led opposition - which boycotted the November 2010 elections but then returned to the political fold - won a landslide victory in April by-elections, giving her party a small presence in parliament.
The USDP, established by Burma's former military regime, started a three-day conference on Sunday.