UK doctors hopeful for Malala Yousafzai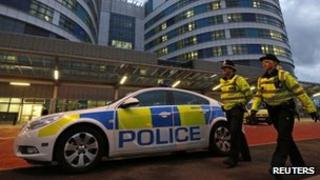 Doctors at the UK hospital where 14-year-old Malala Yousafzai is being treated after a Taliban gun attack say they are hopeful she can recover.
The Pakistani girl, who arrived in Birmingham on Monday, had a bullet removed from her skull last week.
The Taliban said they targeted her for "promoting secularism".
Hospital Medical Director Dr David Rosser said some UK colleagues who had been in Pakistan believed she had "a chance of making a good recovery".
"Clearly it would be inappropriate on every level, not least for her, to put her through all of this if there was no hope of decent recovery," he told reporters shortly before Malala's arrival at Queen Elizabeth Hospital in Birmingham on Monday.
Doctors have already carried out a series of tests on the teenager and a hospital spokeswoman told the BBC they hoped to give an update on her condition on Tuesday morning.
Malala Yousafzai was flown from Pakistan via the United Arab Emirates by air ambulance, almost a week after she and two other schoolgirls were attacked as they returned home from school in Mingora in the Swat Valley.
She became widely known as a campaigner for girls' education in Pakistan as a result of a diary she wrote for BBC Urdu about life under the Taliban, when they banned all girls from attending school.
The gunman who boarded the van in which she was travelling asked for her by name.
Surgeons in the north-western city of Peshawar removed the bullet that had entered her skull from close to her spinal cord and she was then moved to a military hospital in Rawalpindi for more specialist treatment.
A military statement said a panel of doctors had recommended she should be "shifted abroad to a UK centre which has the capability to provide integrated care to children who have sustained severe injury".
Dr Rosser said that specialists at the Queen Elizabeth Hospital in Birmingham were "in a good position to treat her" because they had 10 years of experience in treating UK military casualties - and her condition was much the same as a "battle casualty from a physiological point of view".
Once Malala recovers sufficiently, it is thought she will need neurological help as well as treatment to repair or replace damaged bones in her skull.
The Taliban have threatened to target her again. She was given tight security for her journey to the UK and officials in Birmingham said they also took security very seriously.