Burma blocks opening of office for Islamic body OIC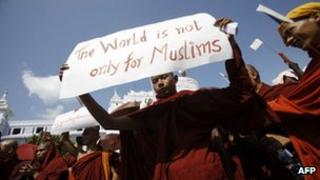 Burma's president has blocked a global Islamic body from opening an office to help Muslims involved in recent communal violence in the west of Burma.
A statement on the president's website said such an office was not in accordance with the people's wishes.
Thousands of monks have joined protests against the Organisation of Islamic Conference's plans to open an office.
Tensions in western Rakhine state have been high after deadly clashes between Muslims and Rakhine Buddhists.
But the issue remains a highly sensitive one with many across the Buddhist-majority nation.
"We cannot accept any OIC office here," Oattamathara, a monk leading the Mandalay protest, told the AFP news agency.
A statement posted on the presidential website reflected this: "The government will not allow the opening of an OIC office as it is not in accordance with the desire of people."
The OIC told the BBC it had not yet been notified of the president's decision.
Rakhine clashes
The violence in Rakhine state began in late May when a Buddhist woman was raped and murdered by three Muslims. A mob later killed 10 Muslims in retaliation, though they were unconnected with the earlier incident.
Sectarian clashes spread across the state, with houses of both Buddhists and Muslims being burnt down. The attacks left many dead and forced thousands of people on both sides to flee their homes.
There is long-standing tension between Rakhine people, who are Buddhist and make up the majority of the state's population, and Muslims, many of whom are Rohingya.
Many Rakhine Buddhists have said that much of the violence in June was carried out against them by Rohingya groups. Rohingyas say they have been forced to flee because of the violence.
The Burmese authorities regard the Rohingya as illegal immigrants.
In August Burma set up a commission to investigate the violence between Buddhists and Muslims in the west of the country, in which dozens died. Authorities earlier rejected a UN-led inquiry.