Pakistan police in Mattani attacked by militants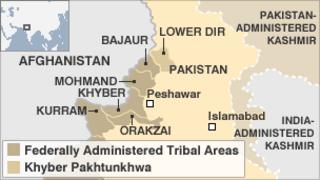 Dozens of heavily-armed militants have attacked a police station in north-west Pakistan, killing at least five policemen, including a senior officer.
Officials say the attack happened late on Sunday night in the Mattani area, outside the city of Peshawar, close to the semi-autonomous tribal belt.
Reports say the attack triggered gun battles that lasted for several hours.
Militants from a branch of the Pakistani Taliban have said they carried out the attack.
Dozens of militants attacked the checkpost, local police official Nasim Hayat told the AFP news agency. Senior official Khurshid Khan was among the dead.
The fighters set fire to the checkpoint and and three police vehicles before withdrawing, he added.
Mr Khan is believed to be the third senior security official killed by militants in recent months.