Burma army-backed party to choose new leadership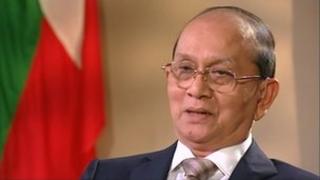 Burma's army-backed ruling party is preparing to choose a new leadership.
The Union Solidarity and Development Party (USDP) wants to regroup after the newly legalised opposition NLD, led by Aung San Suu Kyi, trounced nearly all its candidates in April by-elections.
Burma has surprised the world with the speed of its recent political reforms, says BBC Asia reporter Viv Marsh.
But those same reforms also mean the party risks a crushing defeat in the next general election, due in 2015.
The USDP started a three-day conference on Sunday to choose a new party chief and attempt to map out a new strategy.
The USDP has not had a permanent leader since Thein Sein became Burma's president last year.
A front-runner for the position is the powerful parliamentary speaker Shwe Mann, his main political rival.
"In a democratic system, we have to keep in mind that the majority needs to respect the wishes of the minority, while all must follow the majority's decision," said Shwe Mann, adding he was speaking on behalf of Thein Sein, who also attended the party's first-ever conference.
'Prepared for change'
The gathering is part of an effort by the party to rebuild after a disastrous showing in by-elections in April, says our correspondent.
Two years ago, the party created by Burma's then military rulers easily won a general election derided by critics as a sham, she says.
The opposition leader Aung San Suu Kyi was released only after the poll, but her National League for Democracy virtually swept the board in the April by-elections.
Analysts say the USDP risks outright defeat in a general election planned for 2015 if the vote is free and fair - although Burma's current constitution guarantees the military a quarter of seats in parliament.
A USDP MP, Win Than, says his party could not afford to stand still.
"We must not resist change now. If we don't change, we'll lag behind. We've gone through several parliamentary sessions and we now know what people want and what they don't," he told the BBC.
"As a main party, we'll be discussing the 2015 elections. During the conference, we expect to see a strong new collective leadership for the party, to be prepared for change."