Suicide bomber targets Afghan intelligence agents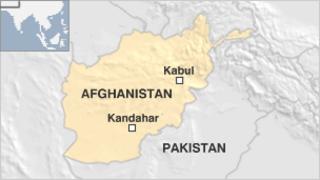 At least five Afghan security staff have been killed in suicide and roadside bomb attacks.
At least three intelligence officers were killed by a suicide bomber outside an intelligence agency building in the southern province, Kandahar.
Some reports said four Afghans were killed in the attack, as well as two members of the international coalition.
In neighbouring Zabul province, a roadside bomb killed two policemen and wounded three others.
In the Kandahar attack, a bomber, reportedly on foot, targeted Afghan intelligence agents and international staff at an entry checkpoint to the National Directorate of Security (NDS) in Maruf district.
"The foreign and Afghan officials were standing at the checkpoint when the attacker blew himself up," Kandahar provincial spokesman Jawed Faisal told the AFP news agency.
Adam Wojack, a spokesman for the international force, Isaf, told AFP "one coalition forces service member and one coalition forces civilian" were killed, alongside the Afghans.