Kyrgyz ex-leader Bakiyev's son held in UK for fraud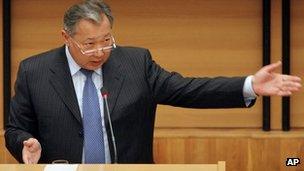 Police in London have arrested a son of fugitive former Kyrgyz President Kurmanbek Bakiyev after a US request to extradite him on fraud charges.
Maxim Bakiyev, 34, was arrested by the Metropolitan Police Service Extradition Unit when he turned up at Belgravia police station on Friday.
He later appeared in court on charges of conspiracy to defraud and conspiracy to pervert the course of justice.
His reaction to the charges was not immediately known.
Mr Bakiyev, whose father was deposed in 2010, is also wanted in Kyrgyzstan.
He arrived in the UK that year, flying into Farnborough airport in a private jet.
Reports say he was arrested upon arrival but subsequently allowed to stay in the UK while a request for political asylum was considered.
Kyrgyzstan, once seen as the most stable and liberal of the ex-Soviet Central Asian republics, descended into turmoil in 2005 when a popular revolt ejected President Askar Akayev and brought Kurmanbek Bakiyev to power.
Deposed in turn in 2010, Mr Bakiyev senior was given political asylum in Belarus.
Confirming Mr Bakiyev's arrest for BBC News, the Metropolitan Police said the charges against him were "two counts of conspiracy to defraud and conspiracy to pervert the course of justice in the USA between April 2010 and April 2012".
He appeared in Westminster Magistrates' Court on the charges later on Friday afternoon.
A Kyrgyz court put out a request for his arrest earlier through Interpol.
The office of the current Kyrgyz President, Almazbek Atambayev, said in a statement that Mr Bakiyev had been arrested in London "for grave crimes", without giving details.
"Because of the absence of an extradition agreement between the Kyrgyz Republic and Great Britain, the British side is now considering the issue of extraditing Maxim Bakiyev to the United States," it said.
According to the Associated Press news agency, Mr Bakiyev has been linked to alleged corrupt schemes in the sale of fuel to a strategically valuable US air base in Kyrgyzstan.
Manas air base has been used by the US for more than a decade for its military operations in Afghanistan.
Maxim Bakiyev served as head of Kyrgyzstan's central agency for development.