Malala Yousafzai attack: The view from Swat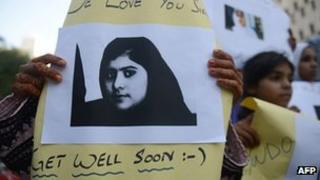 The shooting of schoolgirl Malala Yousafzai in Pakistan's Swat Valley prompted outrage in Pakistan and around the world. Here, a Swat resident describes how the attack has stunned her home valley.
"I was shocked when I heard that Malala was shot. I was at Mingora police station when the news came. I rushed to the hospital to see her. I was very upset to see her smiling face in blood.
I knew Malala personally. I also have a good relationship with her father. Her campaign work for girls' education turned her into a youth icon and got her attention from international media. People here call her "the pride of Swat".
The attack on her came as a mighty jolt to the people of Swat. We are used to living with attacks from the Taliban. My family was targeted by them and I lost family members during the Pakistani army campaign to drive them out of Swat.
Because of our history, this is a strong anti-Taliban society. There is a lot of condemnation here against the attack on Malala. People are saying that cowardly attacks on children, women and elders are against Islam.
But there is more to it. People feel it is an onslaught on the entire nation and a slap on the face of both the military and civil administrations.
It was another attempt to silence a lover of peace by a mindset which knows one language - the language of bullets.
Security questions
There has been no sign of the Taliban returning. The army is very much in control of the area and has been striving hard to return colour to life in Swat. For example, a sporting event is under way at the moment in Swat and its purpose is to promote tourism and peace in the region.
The army was adamant in their official statement that there will be no compromise on peace at any cost. And indeed we can see that they continue fighting the Taliban in border areas.
But the attack on Malala, which happened in broad daylight and under the noses of security forces, raised doubts in people's minds. How can gunmen attack a school van so close to an army checkpoint?
Where were the plain-clothed intelligence persons who are constantly patrolling the city? How have the attackers managed to escape unharmed?
This happened in a place 10-minutes walking distance from the Army Brigade headquarters. How it is possible that two people with weapons were moving freely in the area?
There is fear about any return of the Taliban. There are also big questions about the law and order situation and in the coming days the provincial government will be under huge pressure to defend the claim that peace has been brought back to Swat."