'US drone strike' in Pakistan kills 10 suspected militants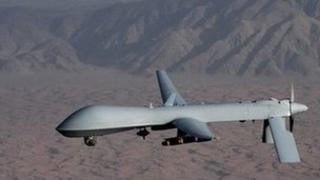 A US drone strike on a compound in Pakistan's north-western tribal region has killed 10 suspected militants, Pakistani officials have said.
At least six people were injured in the attack, which took place in the Orakzai tribal region, near the Afghan border.
It was the second attack in as many days. On Wednesday, a strike in North Waziristan killed five insurgents.
Officials said all those killed in Thursday's strike were fighters led by militant commander Hafiz Gul Bahadur.
Bahadur is an ally of the al-Qaeda-linked Haqqani network, blamed by the US for a string of high-profile attacks in Afghanistan.
Imran Khan rally
The area of the latest drone attack is a known Taliban and al-Qaeda stronghold.
The attacks, by unmanned US aircraft, are deeply unpopular in Pakistan, which says they violate its sovereignty.
However, the government of Pakistani President Asif Ali Zardari has done nothing to stop them and many Pakistanis believe this amounts to tacit consent.
One local official, speaking to Agence France-Presse, said that a total of four missiles had been fired on the compound in Orakzai.
Most of the dead and injured in the attack were Afghans, the official said.
The scale of civilian casualties has been difficult to assess because independent media and researchers are denied access by the authorities to the tribal areas.
Cricketer-turned-politician Imran Khan staged a rally last weekend against drone attacks.
Like many Pakistanis, he argues that attacks from unmanned aircraft kill large numbers of civilians and foster support for militants.
But US officials insist strikes by the unmanned aircraft rarely claim civilian casualties and are an effective weapon against the Taliban and al-Qaeda.
US President Barack Obama has insisted that the drone strategy is "kept on a very tight leash" and that without the attacks, the US would have had to resort to "more intrusive military action".