Bali seeks closure a decade after deadly bombings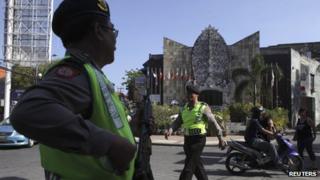 Ten years ago, two deadly bombs ripped through two nightclubs on the Indonesian island of Bali and killed 202 people - mostly foreigners on holiday. The attacks changed the image of Indonesia as a safe place to visit and dealt a deadly blow to Bali's booming tourist trade.
Ni Luh Erniati remembers that day vividly.
"No one wanted to tell me what happened to my husband," she said, trying to contain her tears.
"He was the bartender at the Sari Club that night. I went down to the site and I was like a crazy person, going from place to place trying to find him."
Ni Luh Erniati never found her husband that day.
Four months later, officials told her they had identified his remains, along with those of several other victims of the attacks.
It has been a decade now, but the Bali widow still could not shake off her anger at those responsible for the blasts.
"I can never forgive them," she said. "Even if the terrorists have been executed or given life sentences, I can't forgive them.
"Their execution can't bring my husband back. He is still dead. The image I had of my future, the beautiful picture of my life with my husband - I can never get that back."
'Very introspective'
She and four other women who lost their husbands in the attacks have set up a garment factory - the Adopta sewing co-operative.
Here they make T-shirts and banners with sewing machines donated by foreigners who wanted to help the Balinese get back on their feet.
Mark Wilson, a British expat who runs two pubs on the island, also tried to help the community.
His pub, the Cat and Fiddle, was the centre of relief operations for worried Britons looking for information about relatives or friends who may have been killed or injured in the blasts.
"The Balinese really came together that day and in the months after to help those who had been affected by the blasts," he said in his pub.
"They became very introspective, trying to figure out how this could happen on their peaceful island. And the economy here really suffered.
"People stopped coming here and all the young men and women who worked in the pubs and bars couldn't send money home to their families in the villages."
But Mr Wilson says that Bali has learned a great deal from that tragedy and is now much safer than before.
"These sorts of things could happen anywhere in the world now," he said. "And Bali is no different. But what I know is that it is much more prepared and far more aware than before."
Terror arrests
The Bali attacks thrust Indonesia into the middle of the global war on terror.
Over the last decade Indonesian anti-terror forces have worked hard to combat home-grown militant networks, and by and large their efforts have been deemed successful.
The shadowy extremist group Jemaah Islamiah has been mostly dismantled, with many of the top leaders either captured or killed.
Abu Bakar Bashir, the man thought to be the spiritual leader of the group, is behind bars serving out a prison sentence on terror-related charges.
But officials say Indonesia cannot afford to be complacent.
Over the last few months there have been a string of terror-related arrests.
Indonesia's top anti-terror boss says this shows there are still militants out there.
"They are still active, recruiting young militants and active in fund-raising and financing attacks. They are also active in making bombs," said Ansyaad Mbai.
'Closer to home'
But over the years, their targets have changed.
"If we compare with the past, the targets of the extremists were foreigners, the West," said Mr Mbai.
"Today it is closer to home - the Indonesian police and authorities. We are their enemies now."
Bali police have this week raised fears that militants are planning another attack to coincide with the 10-year anniversary of the attacks.
They say they have received credible information that dignitaries attending the memorial ceremonies are possible targets.
But those fears have not dampened spirits on Bali's beaches.
At Kuta Beach, just a short hop on a motorbike from the memorial honouring those who died in Bali, the tourists are back - blaring out hip-hop tunes from their boom boxes and covering the beach with their bronzed bodies.
Tourist arrivals for Australians - the country worst hit by the blasts - are now at a record high.
There are more visitors to this island than before the blasts.
Many here hope that 10 years on, Bali can finally close the chapter on its deadly tragedy.