Malala Yousafzai: Pakistan's Taliban policy in spotlight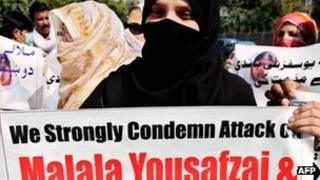 The attack on 14-year-old Malala Yousafzai underlines the ambivalence of Pakistani state institutions towards Islamist militants.
It is also one of those rare incidents that seems to be galvanising public opinion against the militants.
A 2009 video showing Taliban militants flogging a teenage girl in the Swat Valley created similar anger across the country and served as a catalyst for a military operation that wiped militants out of Swat.
Whether the anger sparked by the attack on Malala will lead to any concrete steps against the Taliban's remaining sanctuaries in the north-west, especially in North Waziristan, is yet to be seen.
Highly motivated and articulate, Malala shot to prominence when, as an 11-year-old, she wrote a diary for BBC Urdu, giving a blow-by-blow account of how her school in Mingora town dealt with the Taliban's 2009 edict to close girls' schools.
Her love for education, and her courage to stand up to the Taliban made her an icon of bravery and earned her a national peace award in 2011.
The Taliban's attempt to assassinate her is apparently part of their strategy to eliminate or hurt individuals and institutions that are capable of developing an anti-Taliban social narrative.
'Hydra-headed Taliban'
The dominant narrative in Pakistan has been one of support for the Taliban as "our own angry brothers" who have been fighting "our war in Afghanistan".
This idea has been promoted by some analysts and television journalists considered close to Pakistan's powerful military establishment.
Organised religious groups with street power have been using this narrative to push for a wider radicalisation of Pakistani society.
While these quarters generally back the Taliban in Afghanistan, there have been varying levels of opposition to Taliban groups that focus on Pakistani targets.
These latter groups draw legitimacy from the presence of Western forces in Afghanistan and from drone strikes in Pakistan, and there is an argument that they would be appeased once these factors are eliminated from the region.
But there is also a counter argument - that the different groups of the Taliban represent various heads of a hydra that has a single body, and that dealing with "undesirable" heads alone is not going to get rid of the menace.
This view does not sit well with the establishment that controls the country's security policy, and its proponents are often targeted by the Taliban.
To make matters worse, the reluctance by the establishment to move against the main body of the militants - currently holed up in North Waziristan mostly, though also in pockets of other tribal regions along the Afghan border - creates room for these militants to carry out attacks without being captured and brought to justice.
Shaken country
Malala is the latest in a long list of victims of such attacks - most of them members of the secular political parties such as the Pashtun nationalist ANP and the ruling PPP.
But the attack on her has shaken the country.
People have been up in arms on social media, with many castigating the Taliban for stooping so low as to try to kill a 14-year-old girl.
Schoolchildren across the country offered prayers for her recovery in their morning assemblies, and politicians across a wider spectrum - including leaders of the mainstream religious parties - have condemned the attack.
The reaction is reminiscent of the one that followed the 2009 video that showed the Taliban flogging a girl for alleged adultery.
Though the military had been deployed in Swat two years earlier, it was the surfacing of that video that finally forced them into conducting a decisive operation.
Swat was cleared of militants within six months.
Tears in parliament
Many believe the pressure building up for a decisive blow against the Taliban is even greater this time.
Television images of the schoolgirl lying unconscious on a hospital bed with a bullet in her head have generated widespread sympathy.
Many parliamentarians cried during the session on Wednesday, and many more openly challenged the dominant narrative that the Taliban are "our brothers", and that talking to them - instead of fighting them - was the right thing to do.
The question is, will public pressure change establishment policy?
At a time when the US is talking about an endgame in Afghanistan, the attack on Malala puts the Pakistani government in a difficult spot.
If it deals a decisive blow to Taliban sanctuaries in Pakistan, some elements within the establishment fear they would lose any leverage they might have in the future settlement of Afghanistan.
If it doesn't, it will condemn Malala to a life of perpetual confinement or exile - the only way she can escape her assassins.
And more landmarks of progress and enlightenment will continue to fall in Pakistan.