Pakistan media condemn attack on teenage activist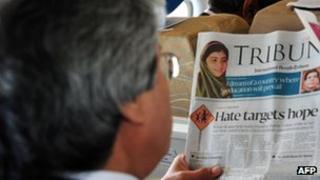 Pakistani media have condemned the shooting of 14-year-old activist Malala Yousafzai, saying the incident shows that the Taliban's continued existence "remains as brutal as ever".
Miss Yousafzai was returning home from school in the north-western Swat district when gunmen stopped her vehicle and shot her in the head and the chest. The Pakistan Taliban said they carried out the attack, which was condemned both within Pakistan and worldwide.
The National Peace Prize winner rose to prominence when her diary on life under the Taliban threat was published by BBC Urdu in 2009.
While some media argued that such incidents justified international criticism of Pakistan, one Urdu-language paper criticised the international media for giving "undue" coverage to the incident to "malign" Pakistan and Islam.
Press
Editorial in Islamabad's The News
"Malala Yousafzai is in critical condition today, and so is Pakistan. We are infected with the cancer of extremism, and unless it is cut out we will slide ever further into the bestiality that this latest atrocity exemplifies."
Editorial in Karachi-based The Express Tribune
"This incident should ram home the reality that the enemy is still alive and remains as brutal as ever... This sad incident leads to questions regarding the use of entering into talks or deals with militants, who seem to be ever ready to target innocent citizens."
Editorial in Islamist Urdu-language daily Ummat
"The international media is giving undue coverage to the incident to malign Pakistan and Islam. The government and media should be careful while issuing statements as foreign elements are in search of incidents to prove Pakistan an extremist and a failed stated."
TV
Anchor Hamid Mir on Geo News channel's Capital Talk show asked the Taliban if there "was a difference between them and the Americans who kill innocent women and children in drone attacks". Mir said that he hoped that the Taliban would not respond by violence but clarify its stance by text message or email.
Salim Safi on Geo News' Aapas Ki Baat programme said government policy on engaging with the Taliban had created deep divisions in Pakistan. "It is unclear who are the enemies and friends of Pakistan because of the government's confused policy," Safi said.
Muhammad Malick on Dunya News channel's Dunya at 8 programme said that such incidents "justify international criticism of Pakistan".
Rahimullah Yousafzai on Aaj News' Islamabad Tonight said "such attacks did not take place earlier but now they do since money and other influences have corrupted the militants... Armed groups were scared of the ideology promoted by Malala and took advantage of her as a 'soft target'."
BBC Monitoring reports and analyses news from TV, radio, web and print media around the world. For more reports from BBC Monitoring, click here