Bali police warn of terror threat on bomb anniversary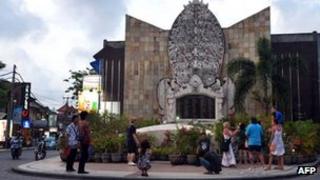 Indonesian police have warned of possible attacks targeting Friday's ceremony marking 10 years since the Bali bombings.
A top Bali police official said security was being tightened after they received "credible information" that dignitaries could be targeted.
Leaders including Indonesia's Susilo Bambang Yudhoyono and Australia's Julia Gillard will be attending the ceremony.
They will mark two blasts on 12 October 2002 in Kuta that left 202 people dead.
"From the information that we have gathered, there are indications of movements aimed at VIPs who will attend the event," Bali's deputy police chief Ketut Untung Yoga Ana was quoted by Reuters news agency as saying.
He said security at airports and seaports would be intensified at "the highest level" and additional security measures taken.
At least 1,000 security personnel would be on hand for the commemoration ceremony, he said.
The al-Qaeda-linked Jemaah Islamiah group were blamed for the attacks of 2002, which targeted the popular tourist district of Kuta.
Among those killed at Paddy's Irish Bar and the nearby Sari Club were people from 21 countries, including 88 Australians, 38 Indonesians and 28 Britons.
Ms Gillard is expected to give a speech at a memorial service in Bali's Jimbaran district. Opposition leader Tony Abbott and former leader John Howard are also expected to attend.
A spokesman from the office of Jason Clare, Australian minister of home affairs and justice, said that the government "was aware of security risks" and was "working closely with the Indonesian government to ensure all necessary precautions are taken".
Several individuals who played a major role in the attacks have been tried, with three executed in November 2008.
Indonesia, the world's most populous Muslim nation, has been fighting Islamic extremists on its soil over the last 10 years, says the BBC's Karishma Vaswani in Jakarta.
Anti-terror forces have been relatively successful in stamping out home-grown extremist networks, but officials warn that the war on terror is far from over, with militants regrouping and forming new cells, our correspondent adds.