Pakistan media condemn attack on Malala Yousafzai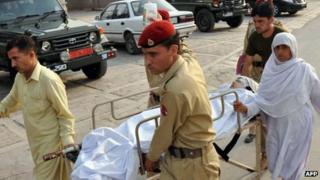 The Pakistani media reacted speedily and angrily to Tuesday's shooting of teenaged campaigner Malala Yousafzai, who was injured on her way back from school in the city of Mingora, BBC Monitoring reports.
The story was headline news on most Pakistan TV channels immediately after it broke soon after midday. Some prominent TV personalities, including Geo News anchor Hamid Mir, immediately expressed their anger over the attack on the 14-year-old peace campaigner.
"No-one has the right to attack a school girl just because of political differences. The attackers give Islam a bad name," Mr Mir tweeted soon after the attack. He also tweeted a link to his Capital Talk show on 18 February 2009, when Malala Yousafzai spoke to him at the peak of the Taliban's control of the Swat valley where she lived.
Mr Mir said that he had even received messages from "sick people" that further efforts would be made to take the teenager's life.
Such was the saturation coverage of TV channels on the shooting of Malala Yousafzai that some media commentators had to call for restraint.
"Dear Pak media, can you please sacrifice your money-making game for the safety of these girls? Why harassing injured girls with cameras?" tweeted columnist and social activist Marvi Sirmed.
"Shocked, traumatised and injured girls who were with #Malalai, being harassed by the media's irresponsible behaviour. What shameful creatures," she added.
'Barbaric act'
There was likewise a massive reaction to the Malala Yousafzai attack in the social media. "#Malala" and "#Swat", both hashtags which referred to her, were trending soon after the news broke on the traditional media.
More than 1,000 tweets were sent out under #Malala. Around 62% of those were from female users. However, of 997 tweets under #Swat, More than 50% were from male users.
Shehryar Taseer - the son of Punjab Governor Salmaan Taseer who was murdered last year because of his opposition to the country's strict blasphemy laws - accused the Taliban on Twitter of being "cowards afraid of a teenaged girl".
Other Tweets were equally outraged.
"Shouldn't religious clerics of the majority school of thought come out and protest against this barbaric act by the Taliban?" "@RabeelRarif" asked.
Another Twitter user, "@rizwan_ahmad" wrote: "Dear Malala plz leave the country to save your life as we still have the politicians who are against any action against the Taliban."
There was also widespread condemnation of the attack from politicians across the board, including President Asif Ali Zardari and Prime Minister Raja Pervez Ashraf.
The attack was condemned in the National Assembly, where legislators from many political parties expressed their outrage.
Among those criticising the attack was cricketer-turned-politician Imran Khan - seen by some Twitter users as an apologist for the Taliban following his anti-drone peace march from Islamabad to the border of the South Waziristan tribal area over the weekend.
But supporters of Imran Khan were also very active in defending their leader against such attacks.
"Sad to see some 'intellectuals' using #Malala shooting incident to score points against IK [Imran Khan]. Tells a lot how concerned they really are for her," "@Sanaa_Amir" tweeted.
Another supporter of Mr Khan pointed out that his march "was not pro-Taliban but was pro-people".
"Those who on one side are victims of Taliban atrocities and on the other [are victims of] of drone attacks," Sajad Memon tweeted.