Outcry over Pakistan attack on activist Malala Yousafza, 14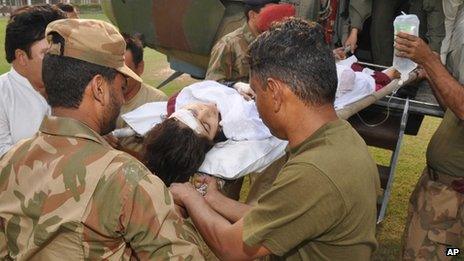 An attack by Taliban gunmen in north-west Pakistan that wounded a 14-year-old who campaigned for girls' rights has caused an outcry in the country.
Malala Yousafzai was shot in the head on her way home from school in Mingora, the main town in the Swat Valley.
The president and prime minister have led condemnation of the attack.
Initial reports suggested she was out of danger, but there is growing concern over her condition with some reports saying she may need treatment abroad.
A Pakistani Taliban spokesman told the BBC they carried out the attack.
Ehsanullah Ehsan told BBC Urdu that they attacked her because she was anti-Taliban and secular, adding that she would not be spared.
Malala Yousafzai came to public attention in 2009 by writing a diary for BBC Urdu about life under Taliban militants who had taken control of the valley.
Almost immediately afterwards, the attack was condemned by politicians and media personalities.
President Asif Ali Zardari said that Tuesday's attack would not shake Pakistan's resolve to fight Islamist militants or the government's determination to support women's education.
He said that the aim of the "terrorists" who carried it out was to weaken the resolve of the nation - but the country would continue its fight against militants "until its logical conclusion".
In a statement about the attack, Prime Minister Raja Pervez Ashraf said: "We have to fight the mindset that is involved in this. We have to condemn it... Malala is like my daughter, and yours too. If that mindset prevails, then whose daughter would be safe?"
The attack has also been condemned by most of Pakistan's major political parties, TV celebrities and human rights groups including the Human Rights Commission of Pakistan (HRCP) and Amnesty International.
HRCP senior official Kamila Hayat praised Malala Yousafzai for standing up to the militants and sending a message across the world that Pakistani girls had the courage to fight for their rights. But she also worried that Tuesday's shooting would prevent other parents from letting their children speak out against the Taliban.
"This is an attack to silence courage through a bullet," Ms Hayat said. "These are the forces who want to take us to the dark ages."
Malala Yousafzai was travelling with at least one other girl when she was shot, but there are differing accounts of how events unfolded.
One report, citing local sources, says a bearded gunman stopped a car full of schoolgirls, and asked for Malala Yousafzai by name, before opening fire.
But a police official also told BBC Urdu that unidentified gunmen opened fire on the schoolgirls as they were about to board a van or bus.
She was hit in the head and, some reports say, in the neck area by a second bullet. Another girl who was with her at the time was also injured.
Doctors who treated her in Mingora initially said she was out of danger. She has now been taken by helicopter to Peshawar for further treatment, officials say.
Malala Yousafzai was just 11 when she was writing her diary, two years after the Taliban took over the Swat Valley, and ordered girls' schools to close.
In the diary, which she kept for the BBC's Urdu service under a pen name, she exposed the suffering caused by the militants as they ruled.
She used the pen-name Gul Makai when writing the diary. Her identity only emerged after the Taliban were driven out of Swat and she later won a national award for bravery and was also nominated for an international children's peace award.
Correspondents say she earned the admiration of many across Pakistan for her courage in speaking out about life under the brutal rule of Taliban militants.
One poignant entry said that her dream was a country where "education would prevail".
The BBC's Orla Guerin in Islamabad says that Malala Yousafzai was a public figure who didn't shy away from risks and had strong support from her parents for her activism. Indeed, her father, who is a school teacher, expressed his pride in her campaigning.
The Taliban captured the Swat Valley in late 2007 and remained in de facto control until they were driven out by Pakistani military forces during an offensive in 2009.
While in power they closed girls' schools, promulgated Sharia law and introduced measures such as banning the playing of music in cars.
Since they were ejected, there have been isolated militant attacks in Swat but the region has largely remained stable and many of the thousands of people who fled during the Taliban years have returned.
Related Internet Links
The BBC is not responsible for the content of external sites.