Australia parliament approves PNG asylum camp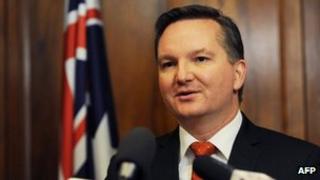 Australia has approved legislation allowing an offshore processing camp in Papua New Guinea (PNG) to begin receiving asylum seekers.
Early on Wednesday the Senate passed the bill formally designating Manus Island an asylum camp.
Leaders from both nations say Manus can start taking asylum seekers in weeks.
Australia decided to re-establish offshore processing camps in August, after ending the policy - known as the Pacific Solution - in 2008.
The move - recommended by an expert panel - came in response to a rising number of asylum seekers arriving by boat.
The government says offshore processing - which began again in Nauru last month - is aimed at deterring people from making the dangerous journey across the sea to Australia.
Several boats have sunk or had to be rescued in recent months as they made their way from Indonesia to the Australian territory of Christmas Island.
But critics say the policy is inhumane and provides inadequate protection for the human and legal rights of the asylum seekers held offshore.
Australia closed its camp on Manus island eight years ago, but soldiers have been working to open it up again since last month.
Immigration Minister Chris Bowen says it will be able to accommodate about 600 asylum seekers, starting "within weeks".
He told ABC News on Tuesday that while boats were continuing to arrive, some people had decided to return home - a sign the policy was working.
"I'm not overstating the number who've returned home but I am pointing to that as something we haven't seen before in very significant numbers," he said.
The lower house approved the bill on Tuesday.
Last month Australia began transferring asylum seekers to the tiny Pacific nation of Nauru. Six groups of people - mostly from Sri Lanka and Afghanistan - have now been moved there.