Vietnam dissident poet Nguyen Chi Thien dies in US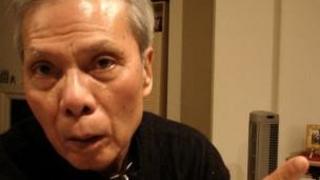 Nguyen Chi Thien, a dissident poet who spent 27 years in Vietnamese prisons, has died in California aged 73.
He was first jailed in Communist North Vietnam in 1960, after challenging a history textbook that attributed Japan's defeat in World War II to the Soviet Union, rather than the US.
His collected writings were published as Flowers of Hell in several languages.
He left for the United States in 1995, where he spent the rest of his life.
Thien was born in 1939. He initially welcomed the Viet Minh independence fighters when they defeated the French colonial army in 1954, but said the Communists quickly turned North Vietnam into a huge prison.
He quickly came under suspicion, because his elder brother had gone south to fight for the US-backed regime in Saigon.
Solitary confinement
As a history schoolteacher in North Vietnam in 1960 - at the height of the Cold War - he was teaching a dangerous subject.
Thien told school students that their textbook was wrong - it was not the Soviets who had defeated Japan in World War II, but the Americans with their atom bombs.
He was denounced and spent three-and-a-half years in labour camps for anti-state propaganda.
The poet spent the next three decades in conflict with the Communist government - most of them in detention, constantly shifted from camp to camp, and frequently in solitary confinement.
He was allowed no pen and paper and committed all his poems to memory, reciting them constantly to other imprisoned writers when he had the chance.
"For him to live that long, in an existence that dramatic, is precious," Thien's friend and fellow activist Doan Viet Hoat told the Los Angeles Times. "I think his whole life has been a lonely life, and it touched his thinking."
Flowers of Hell was published in a period of freedom between stretches in prison, after Thien smuggled 400 poems into the British Embassy in Hanoi.
He was arrested and served another decade in prison but the poems were published, translated into several Asian and European languages.
The English version of the book contributed to Thien's winning of the International Poetry Award in Rotterdam in 1985, the LA Times said.
In 1991, as Communism crumbled, Thien was freed, and in 1995, he was allowed to seek asylum in the US. He spent his remaining years in what is known as Little Saigon, Orange County in southern California.
He was finally reunited with the brother he had not seen since the division of Vietnam in 1954.
He cut an unusual figure in the Vietnamese community as one of the very few North Vietnamese prisoners who were allowed out of the country 20 years after the war, says BBC Vietnamese editor Giang Nguyen.
There, he published two further collections of short stories, in 2001 and 2008, though no more poems, and also converted to Catholicism.
He continued to speak out strongly against what he saw as the Communist oppressors of his homeland, at the end of his tragic but remarkable life, our correspondent says.