China boats sail to islands amid talk of bank 'pullout'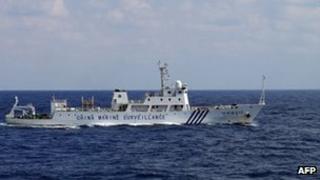 Chinese ships have sailed near islands disputed with Japan for a second day in a row, amid unconfirmed reports that Chinese banks have pulled out of meetings in Tokyo.
Three ships were seen in the East China Sea area, Japan's coast guard says.
Meanwhile, a media report said that Chinese officials from major banks would not attend annual meetings with the World Bank and IMF next week.
A Japanese finance official said it was "disappointing" if this were the case.
Both China and Japan claim the islands, called Senkaku in Japan and Diaoyu in China. Taiwan also claims the islands.
Earlier this month, the Japanese government bought the islands from their private Japanese owner, reigniting a territorial row that has rumbled for years.
Chinese and Taiwanese fishing boats and surveillance ships have also been sailing in and out of what Japan says are its territorial waters - leading to warnings from Tokyo.
Four Chinese ships were also spotted near the disputed islands on Tuesday, reports the Kyodo news agency.
Foreign Minister Koichiro Gemba was quoted by Kyodo as saying that Japan was open to continuing talks with China to ease tensions.
"We must handle it calmly without losing sight of the broad perspectives," he said during an event at the ministry.
'Disappointing'
Meanwhile the Dow Jones Newswire has reported on Tuesday that several Chinese bank officials are planning to pull out of the International Monetary Fund (IMF) and World Bank meetings in Tokyo.
"Quite frankly, it's Japan-China relations," the Wall Street Journal newspaper quoted an official at the Tokyo branch of the Agricultural Bank of China as saying about the reason behind the pull out.
"It's really disappointing. I was really sorry to hear that," Japan's Finance Vice-Minister Takehiko Nako said, adding that Japan had not received any news of cancellations by Chinese government officials.
"There has been trust and good cooperative relations... and my strong belief is that we should continue to do this," he said.
Last week, Japan and China traded barbs at the United Nations over the islands, with China accusing Japan of stealing them and Japan reiterating its territorial claim.
The row has also seen a ceremony meant to mark Sino-Japanese ties cancelled and a number of Japanese businesses briefly halt production in some Chinese cities because of protests.
It comes at a time when both countries are facing political changes domestically, making it difficult for either side to be seen as backing down.