Six dead in Australia vintage biplane crash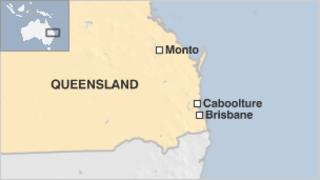 Six people on board a vintage biplane that went missing in Australia have been confirmed dead, after wreckage was found in southeastern Queensland.
The plane went missing after sending a distress call on Monday.
It was flying from an airshow in Monto to Caboolture, north of Brisbane, prompting a search.
A rescue helicopter spotted the red De Havilland Dragon DH-84 - believed to be only one of four such planes in the world - in a dense forest on Wednesday.
Rescue officials said it was a ''high impact crash'' and confirmed that there were no survivors.
"The plane is not in a condition that you would recognise as a plane," Australian Maritime Safety Authority (AMSA) spokesman Mike Barton told reporters.
The wreckage was found in a remote area near a dam 160km (100 miles) north of Brisbane.
The six were believed to have been killed on impact. Their next-of-kin had been informed, Mr Barton added.
The deceased have been identified as the pilot and his wife - Desmond and Cath Porter - and two couples.
Mr Porter, who had been raising funds for charity at an airshow before the crash, survived a crash in a plane of the same model in 1954 that killed his father and brother.
He rebuilt the current plane using parts from the one that crashed, Australia media reports said.
The authorities are continuing to search the crash site and expect an investigation to continue for several days.