Hong Kong collision: Survivors' stories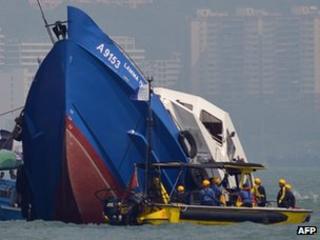 As rescuers continue to search the waters off Hong Kong following a fatal boat collision, survivors describe the moment of impact and the chaos that followed as the Lamma IV pleasure boat sank.
Sarah Blackman was on board one of the boats involved.
"I was on the top deck of the ferry and felt the impact - it threw people off their seats. The sound the collision made was horrific," she told the BBC.
"Our ferry cut its engines and a crew member checked if passengers had sustained injuries from the impact."
Ms Blackman said they were warned that the ship was sinking and people made their way inside the ferry to put on life jackets.
"Our engines went back on, and a couple of other passengers and I went back to the rear of our ferry to look for the other boat that was now behind us, and that is when we saw it sinking in the water. As far as I'm aware, no lifeboats were on board - just life buoys and life jackets.
"As my ferry docked in Lamma it was clear everyone was in shock and desperately concerned for the ship left behind."
Chris Head, who was also on the ferry, told the The South China Morning Post: "Initially we were trying to put on our life jackets so we were more concerned with that. But after a few minutes - probably about five - I could see that the end - I couldn't tell whether it was the bow or the stern - of the boat was sticking vertically out of the water.
"I thought... 'This is real'. I could see it going upright and sinking, just like the Titanic."
Chaos and tears
The low visibility and the many obstacles on the vessel made it difficult for people to escape.
A male passenger who was on the stricken pleasure boat told the Reuters news agency: "After the accident, it was all chaos and people were crying. Then water began seeping in and the vessel began to tilt to one side.
"People were all told to stand on the other side and everyone started putting on life jackets."
Another survivor told The South China Morning Post: "After 10 minutes out [of the harbour] a boat crashed into ours from the side at very high speed. The rear of the ferry started to sink.
"I suddenly found myself deep under the sea. I swam hard and tried to grab a life buoy. I don't know where my two kids are," he said.
Another woman said: "I swam for a long time to reach the surface and swallowed a lot of water. Then I found a rescue boat."
"We thought we were going to die. Everyone was trapped inside," Reuters quoted another survivor as saying.
The search and rescue operation continues.