Hong Kong boat collision: Eyewitness accounts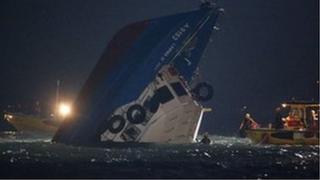 A collision between two passenger boats off Hong Kong's Lamma Island has left at least 36 people dead, officials say.
People who are in the affected areas have been sending their experiences to the BBC.
Sarah Blackman, Lamma Island, Hong Kong
I'm at the pier in Lamma where the collision occurred. I can see that a front section of the double-decker ferry I was on is missing.
I have been living in Hong Kong for over three years - ferries here are like London's tube for going to work. I haven't experienced anything like this collision before.
I was on the top deck of the ferry and felt the impact - it threw people off of their seats. The sound the collision made was horrific.
Our ferry cut its engines and a crew member checked if passengers had sustained injuries from the impact.
I'm not sure if the evacuation was passenger-led but there was a general warning that our ship was sinking and so we went inside the ferry to put on life jackets.
Our engines went back on and a couple of other passengers and I went back to the rear of our ferry to look for the other boat that was now behind us and that is when we saw it sinking in the water.
As far as I'm aware no lifeboats were on board - just lifebuoys and life jackets.
As my ferry docked in Lamma it was clear everyone was in shock and desperately concerned for the ship left behind.
Antony Phillips, Lamma Island, Hong Kong
We were sat having dinner on the roof of our home when around 0830 there was an almighty crash just behind us.
We thought it was fireworks going off for National Day.
The crash happened just behind us. We are located right on the peninsula where it occurred.
Rescue teams were on the scene very quickly and kept working long into the night.
I'm not sure why the boats were as close to the land as they were though as that is not the normal route.
I went to the harbour early this morning for breakfast and clearing up is still taking place.
Other comments