New Zealand reaches deal over Rena ship grounding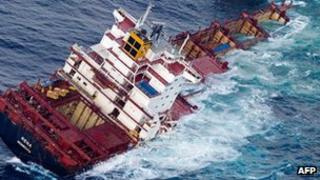 New Zealand says it has reached a multi-million dollar deal with the owners of a ship that ran aground off the country's North Island, spilling fuel oil and containers as it broke up.
Daina Shipping, a subsidiary of the Greek-based company Costamare, is to pay up to NZ$38m ($31.5m, £19.5m) towards clean-up costs.
The Liberian-flagged MV Rena hit a reef off the North Island on 5 October 2011.
Its captain and navigator were jailed for their parts in the incident.
Hundreds of tonnes of fuel oil leaked out, polluting beaches and killing wildlife including thousands of sea birds.
An interim report by the New Zealand Transport Accident Investigation Commission stated that the accident occurred as the crew took shortcuts to meet a deadline to reach port.
Under the agreement Daina Shipping will pay compensation of NZ$27.6m for clean-up costs, a New Zealand government statement said.
It will also pay NZ$10.4m if the company ends up leaving part of the wreck in place, reflecting reduced salvage costs, it said.
Transport Minister Gerry Brownlee said the company had "negotiated constructively" towards a deal which represented "the best possible outcome for the people of New Zealand".
Under existing legislation - which is currently being amended - the company was only obliged to pay NZ$11.3m, the government said.
So far the incident has cost the government NZ$47m, it added.
Konstantinos Zacharatos, speaking on behalf of Daina Shipping, called the deal "a vital step forward in our progressive resolution of all the issues", in a statement with Maritime New Zealand.
"These agreements allow both New Zealand as a whole, and the Bay of Plenty region, to move on from what was, from an environmental standpoint, the worst maritime disaster in our history," Mr Brownlee said.