Burma's Thein Sein, an unlikely champion of reform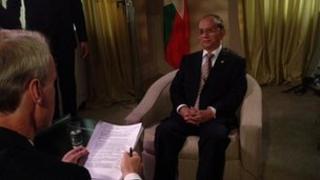 For a man who was persona non grata in the US until last week, President U Thein Sein has been looking remarkably relaxed in New York City.
Admittedly I met him in the confines of a swanky Manhattan hotel, surrounded by an entourage of advisers and minders, but nonetheless this former stalwart of Burma's military dictatorship is clearly relishing his rebirth as an unlikely champion of reform.
He even managed a smile for his interrogator from the BBC. All those years spent vilifying the evil and imperialist western media appear to have been forgotten.
In person Thein Sein lacks the charisma of the Nobel laureate democracy activist Aung San Suu Kyi, but his role in Burma's political re-awakening is as important as hers. Indeed the two of them appear to recognise they need each other.
They met in New York a couple of days ago, on the fringes of the UN General Assembly, and they worked in tandem to persuade the Obama administration to ease the trade embargo which has long imposed a choke-hold on the Burmese economy.
Another small step
President Thein Sein's biggest challenge is to take the more uncompromising elements of the military leadership with him as he presses ahead with reform. That's why his willingness to accept the possibility of Aung San Suu Kyi being elected president in 2015 matters so much.
It can only happen if the current military-dominated parliament sanctions changes to the constitution. Will they? At the moment many Burmese remain understandably sceptical, but the process of change - once started - is hard to stop.
At the beginning of my interview with the president there was a telling moment. One of his most senior advisers took me to one side and said: "If there is a question I do not like, I will tell the president not to answer it."
"I'm sorry," I said, "that's not the way we do interviews at the BBC."
The aide grimaced but reluctantly agreed not to intervene. The president duly answered my questions. Another small step on the road to a new Burma.