Peshawar blast kills top Pakistan bomb disposal officer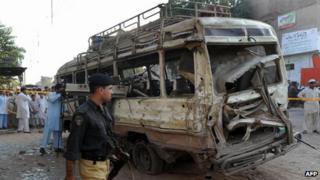 A senior Pakistani bomb disposal officer has been killed while attempting to defuse a device in the restive north-western city of Peshawar, police have said.
Bomb squad veteran Hukam Khan had successfully defused one device but was killed when a second one exploded as he was trying make it safe.
Three police officers were wounded in the blast.
Mr Khan saved many lives by defusing dozens of bombs in his career.
Police say that Mr Khan, who was in his late 50s, rushed to the city's Matni neighbourhood after hearing that insurgents had planted two bombs near a road used by security convoys travelling to the Khyber tribal region.
Senior police officer Fazal Mola Dad told the AP news agency that Mr Khan's role in making so many bombs safe in recent years meant that he played a key role in the battle against militants in Peshawar.
Pakistani President Asif Ali Zardari on Tuesday told the UN General Assembly that his country had lost more than 7,000 soldiers and policemen as a result of "terrorism" since the 9/11 attacks in the US. He said that in addition 37,000 civilians had been killed.
Peshawar is near Pakistan's tribal belt - a stronghold of Taliban and al-Qaeda militants. Violence from the tribal regions has in recent years spilled over into the city.
Last week a bomb exploded on a busy road in the city, killing at least nine people and wounding at least 20 others.
Earlier in September, a suicide bomber killed two people and injured 19 others when he drove his car into a vehicle from the US consulate in Peshawar.
Hundreds have died in attacks in and around the city in recent years.