School where South Korea's dropouts flourish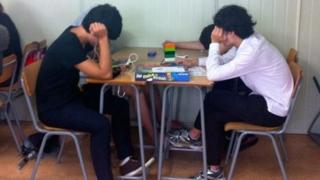 South Korea's education system is globally renowned - a feverishly competitive national industry that churns out highly-motivated students and sends them to the world's top universities. But what happens if you do not fit the stereotype?
It is mid-morning at Song-ji High School, and inside a row of grey portable buildings, senior classes are under way.
In one of them, 30 students sit hunched around their tables - hooded tops pulled up over their heads, tattoos peeking from their cuffs.
A group of girls are playing something called Love Roulette in a corner. Three boys are suspending tiny plastic monkeys from sticks, four people are fast asleep, one is combing her hair and several are occupied with their mobile phones.
Board games do not usually form part of the South Korean curriculum and tattoos are rarely as acceptable as school ties, but Song-ji is not your average school.
In the next-door cabin, the pop music class is in full swing. A band with drums and backing singers wobble through a recent hit song, to the enthusiastic encouragement of their music teacher.
They are barely in tune and the students read the lyrics off their mobile phones, but the emphasis at Song-ji is on participation, not perfection.
Because this is where students come when they fall off South Korea's education conveyor belt. And the teaching here is everything that Asia's traditional schools are not.
'I got angry'
Seung-hwan is a catering student at the school, a would-be chef with a diamante ear stud and a troubled past.
"There were too many regulations in my old school," he said. "I had trouble sticking to them and I got angry.
"The only outlet I had was bullying and fighting other kids. My parents got angry, so I ran away from home and began to get into all kinds of bad things."
At Song-ji, he says that the teachers are not only more relaxed but crucially they teach at the students' own pace.
This is not the case in South Korea's mainstream education system - many schools here are achievement hot-houses.
The government has said that it wants less pressure and more extra-curricular activities for its students, but even young children often spend 12 hours or more each day studying.
And with more than 80% of school-leavers entering higher education, it is getting more pressured, not less.
Many students say it is getting harder to compete for grades, for university places and ultimately, for jobs.
The unemployment rate for young people is now twice the national average, and even students at top universities worry about what all those years of study will ultimately buy them.
It is no wonder, perhaps, that alternative schools like Song-ji are proving popular.
A recent government report estimated that 40% of South Korea's mainstream students wanted to quit, and that number rises with age.
Song-ji's principal, Kim Han-tae, says the country will see more dropouts, not less, unless the system changes.
"Public education these days is regressing because it's too rigid, too formulaic," he said.
"There's no improvement in content and the schools are not adapting to the students' changing needs, that's why the private sector is flourishing."
The facilities at Song-ji might be inferior, he admits, but the school is serving an important purpose - helping students adapt and find talents outside the mainstream system.
"We might let the students fall asleep in class," he said. "But we know that when they do wake up, they'll want to learn. Without schools like ours, they would be left behind, isolated, and create social problems."
'Everyone graduates'
All of which might make the government grateful for schools like this one. But Mr Kim complains that there is little support and too many regulations for those offering alternative education.
There are fewer than 40 officially certified so-called alternative schools in Seoul, and there is some unease towards them. After all, they do not gel with South Korea's modern, international image.
In fact, 50 years ago, education was patchy and low-priority for all but society's elite. And the economic boom in the country was so fast that many of today's entrepreneurs had little formal education.
Kim An-sook has run a successful car-repair workshop for decades. She became a student at Song-ji High School in the 1950s, an unexpected second chance to finish her education.
"I never went to high school because back in those days, my father couldn't afford to send me," said Ms Kim.
"I think there's a great need for these kinds of alternative schools, especially in rural areas and among older women like myself."
It can be hard to catch up, once you have fallen behind in this highly competitive system.
But Song-ji's Mr Kim says his is a South Korean school without competition. Anyone can come here and everyone graduates, he says.
It is not a policy that brings accolades. But in a country bent on success, it does raise an important question: what happens to those who do not make it?