Burma leader Thein Sein pays tribute to Aung San Suu Kyi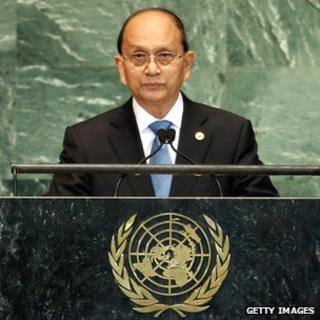 Burma's President Thein Sein has paid tribute to opposition leader Aung San Suu Kyi in his address to the UN General Assembly in New York.
He also said radical democratic reforms in his country were irreversible.
Thein Sein referred to Aung San Suu Kyi for the first time as a Nobel laureate, and congratulated her on the honours she recently received in the US.
Ms Suu Kyi was under house arrest for 15 years under the previous military government in which he served.
Earlier this month, the Nobel laureate - who is also currently in the US - received a top honour, the Congressional Gold Medal, and called for sanctions to be eased.
"As a Myanmar citizen, I would like to congratulate her for the honours she has received in this country in recognition of her efforts for democracy," the Burmese president said.
In his speech, also scheduled for broadcast inside Burma, he told the UN that Burma had left behind its system of authoritarian government. But, he said, the democratic transformation would be a complex and delicate task that required patience.
Burma's civilian-led government has undertaken a series of reforms since the end of outright military rule last year.
Thein Sein also said the government placed a high priority on ending armed conflicts with its ethnic minorities through peace talks and confidence-building measures.
But he revealed no new initiative on the recent serious unrest in Rakhine state - involving Buddhists and mainly Rohingya Muslims - which is currently the subject of a national commission of inquiry, correspondents say.
Earlier, US Secretary of State Hillary Clinton said the US would ease its import ban on goods from Burma.
Mrs Clinton said the step came in recognition of Burma's continued progress towards reform and in response to requests from both the government and opposition there.
Thein Sein said he was grateful for the decision - which is the latest in a series of such moves since the process of reform in Burma got under way.
The US lifted sanctions against Burma's president shortly before his visit to the US and relaxed its financial restrictions after by-elections were held earlier in the year.