Clinton says US will ease import ban on Burma goods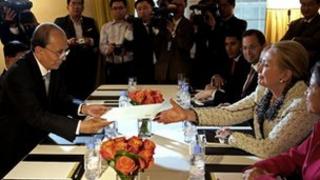 Secretary of State Hillary Clinton says the US will ease its import ban on goods from Burma, a key part of remaining US sanctions.
Mrs Clinton announced the move during talks with Burmese President Thein Sein at the United Nations General Assembly.
She said the move - the latest in a series - recognised "continued progress toward reform" in Burma.
Earlier, the speaker of Burma's parliament told the BBC that his country's reforms were "irreversible".
Shwe Mann, a powerful figure who recently had US sanctions against him lifted, said the government intends to establish a multi-party democratic system and market economy.
'Next step'
Thein Sein - the former top general who now leads a nominally civilian government following elections in November 2010 - is due to speak at the UN General Assembly on Thursday.
Under his administration many political prisoners have been freed and censorship eased. The Aung San Suu Kyi-led opposition is now part of the political process and holds a small number of seats in parliament.
"In recognition of the continued progress toward reform and in response to requests from both the government and the opposition, the United States is taking the next step in normalising our commercial relationship," Mrs Clinton told the Burmese president.
She said she hoped the move would give Burmese people more opportunities to sell to the US market.
Thein Sein said he appreciated the move - which is the latest in a series of such steps since the process of reform in Burma got under way. The US lifted a ban on investment in Burma in June.
Both the president and opposition leader Aung San Suu Kyi are currently in the US.
Earlier this month, Ms Suu Kyi - who spent years under house arrest - received a top honour, the Congressional Gold Medal. She had also called for the sanctions to be eased.
In Burma's commercial capital Rangoon, a spokesman for her National League for Democracy party welcomed the move, saying it would be "good in the long term".
Mrs Clinton said consultation on additional steps would continue. Thein Sein still faces opposition within Burma's military to political reform, observers say.
But Shwe Mann, the Burmese speaker, described a good working relationship with Ms Suu Kyi.
Speaking to the BBC in Singapore, he said: "She is not my enemy, and I am sure I am not hers. She has good qualities and she loves her country. We share the same ambition - to serve the nation and people."
Shwe Mann is now playing a central role in mapping out the future - and is widely viewed as a likely presidential candidate, says the BBC's South East Asia correspondent Jonathan Head.