Mohamed Nasheed supporters denounce Maldives travel ban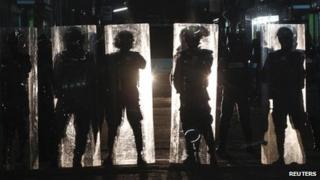 Supporters of former Maldives President Mohamed Nasheed say that a court order preventing him from leaving the capital, Male, is unfair and politically motivated.
They say that the ban is aimed solely at preventing him from campaigning ahead of elections promised next year.
But the government argues that travel restrictions are standard ahead of several court cases Mr Nasheed faces.
Mr Nasheed resigned as president in February in what he said was a coup.
Succeeded by his deputy, Mohamed Waheed, he said he was forced to quit by threats of violence from rebellious police and soldiers.
But a domestic commission of inquiry - backed by the Commonwealth - last month rejected his account, saying he had stepped down voluntarily.
'Abuse of power'
In a hearing on Tuesday, the court in Male imposed the travel restrictions, forcing Mr Nasheed to seek court permission if he wants to leave the capital.
Male is located on one small island, which means that it will be impossible for the former president to travel around the coral atoll nation and campaign in the elections, his party says.
While president in January, Mr Nasheed is accused of illegally ordering the arrest of a judge accused of corruption.
The move triggered weeks of protests, culminating in him being replaced as leader on 7 February. The abuse of power case is due to come to court on Monday.
Reports say that Mr Nasheed could face up to three years in jail or banishment to a remote island if found guilty.
In addition the former president faces two civil law suits for allegedly defaming Police Commissioner Abdullah Riyaz and Defence Minister Mohamed Nazim. Those cases are due to be heard on 28 September and 2 October.
"The regime fears Nasheed will win an election. So they plan to convict him of something so they can prevent him from standing. They know their grip on power is dependent on removing Nasheed from the political equation," Mr Nasheed's Maldivian Democratic Party (MDP) said in a statement.
MDP spokesman Hamid Abdul Gafoor told the BBC the government was trying to dismantle the party and was planning to put Mr Nasheed under house arrest or in prison, inspired by Burma's past actions.
But a spokesman for President Mohamed Waheed Hassan Manik rejected the allegation, saying the court order was "the usual practice, according to the country's law".
"It's done to everyone and nothing extraordinary has been done to him. It's totally a judicial matter and the government has no influence on the judiciary," the spokesman said.