Senior Pakistan geology official shot dead in Balochistan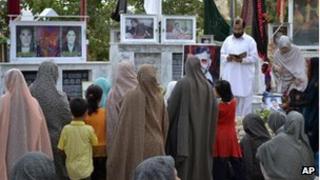 Gunmen in the Pakistani province of Balochistan have shot dead a senior official of the Geological Survey of Pakistan in an apparent sectarian attack, police say.
Mohsin Raza Naqvi, a member of the minority Shia community, was killed outside his office in Quetta.
Sectarian violence between extremist Sunnis and Shias has killed thousands over the last 20 years.
Most of the attacks have been in Balochistan or the north of Pakistan.
Shias and other minority communities say those behind the violence - such as the banned Sunni militant organisation Lashkar-e-Jhangvi - are rarely caught or punished.
'Fired bullets'
"We are investigating the crime but it seems a case of sectarian killing. There is a wave of sectarian killings in the country and this is part of that," senior police official Mohammed Ayaz told the AFP news agency.
Another official told AFP that the gunmen had been waiting for Mr Naqvi, a deputy director of the Geological Survey, at the main gate of his office.
"They fired bullets at him from close range and escaped," the official said. "His family said they had no feud with anybody and Naqvi was killed because he was Shia."
Last month a Shia judge was shot dead in Quetta along with his driver and police bodyguard.
Balochistan borders Iran and Afghanistan and is one of Pakistan's poorest but most strategically important provinces. It faces a host of problems.
As well as sectarian violence, it is at the centre of an insurgency waged by separatists demanding more autonomy and a greater share of its large reserves of natural resources which include oil and gas.
Balochistan is also used as a sanctuary by Taliban militants fighting in neighbouring Afghanistan.