Crew jailed over Christmas Island asylum boat tragedy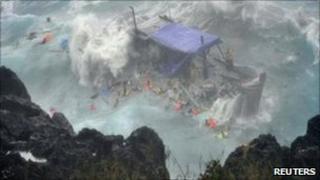 An Australian court has jailed three Indonesian men who crewed an asylum boat that sank in December 2010.
The three men, who were found guilty of people-smuggling in August, each received terms of more than five years.
About 50 people are thought to have been killed when the boat broke up off Christmas Island.
Ali Khorram Heydarkhani, an Iranian-Australian man accused of organising the boat, will be sentenced next month after admitting similar charges.
The boat crashed into rocks near Christmas Island on 15 December 2010. Coastguards rescued 42 survivors but up to 50 people are believed to have drowned.
The passengers were believed to have been mainly Iranian, Iraqi and Kurdish asylum seekers making their way to Australia via Indonesia.
The three crew members had been paid around A$2,000 ($2,073; £1,280) to operate the boat, the court in Perth was told.
Judge Stephen Scott said they turned a blind eye to the fact that there were only 20 life jackets even though there were a lot more people on board.
Christmas Island - which lies about 2,600km (1,600 miles) from Australia but only 300km south of Indonesia - is often targeted because it is the closest piece of Australian territory to Indonesia.
In recent months the number of asylum seekers arriving by boat in Australia has increased.
In response the Australian government has reintroduced offshore processing in Nauru, in a bid to deter people from making the dangerous journey by boat.