Nepal avalanche survivors describe being 'swept away'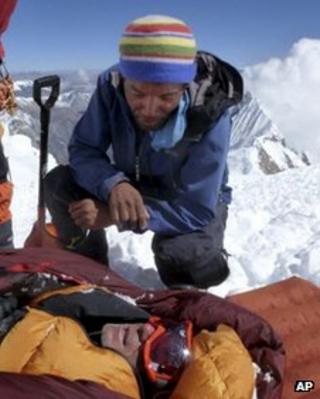 Climbers who survived an avalanche that killed at least eight people in Nepal have been describing their ordeal, as the search for those still missing drew to a close on Tuesday.
The mountaineers said they were in darkness when they heard a thunderous boom and the crush of snow on Saturday which pushed them down Mount Manaslu.
The mountain is the world's eighth-highest peak.
At least 10 climbers have been rescued, with three still missing.
Mangled tents
Italian climber Christian Gobbi, 42, told the AFP news agency that he and his friend, Silvio Mondinelli, 54, woke up and were talking when suddenly their voices were drowned out by the giant roar of the avalanche - thought to be the worst in Nepal for at least seven years.
"It was only a few seconds and we did not know what had happened, but we had slid more than 200m (650ft)," he said.
At daybreak on Sunday the pair discovered the body of the Nepali guide who led them on the dangerous trek. Among the mangled tents and scattered belongings, they also found the body of their friend, Italian Alberto Mariano, in addition to the bodies of other climbers.
"We were terrified - we didn't know what to do," said Mr Mondinelli, who correspondents say is one of the world's most experienced climbers.
The pair were among a group of more than 20 climbers at the camp, which rescuers described afterwards as looking like a "war zone".
The search for the three missing climbers is expected to resume on Wednesday, but rescuers have warned that the chances of finding survivors now is fast receding.
The climbers were caught at 7,000m (22,960ft) as they were preparing to head toward the summit, which is 8,156m high.
Hundreds of foreign climbers head every year for the Himalayas in Nepal, which has eight of the world's 14 highest mountains, including Mount Everest.
Manaslu is considered one of the most dangerous, with dozens of deaths in recent years.
The autumn climbing season began this month.